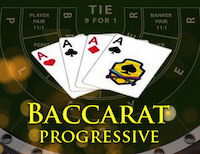 Progressive Baccarat Casino Game
Progressive Baccarat is a Baccarat game offered by Playtech games provider.
There is no need to get dressed up and take a drive to the casino any longer; you can enjoy the thrill of playing progressive baccarat from the comfort of your own home at any time of the day or night for far less expense. This game is becoming more popular with casino fans every day.
Played in much the same as traditional or classic baccarat, progressive baccarat provides the player with the opportunity to win very large amounts of money. This is because the jackpot grows, and quite typically, grows very quickly.
The aim of the game is to create a hand that is has a hand-point total as close as possible to the number nine. This is calculated based on a special point counting system where aces equal 1, number cards are equal the face value and picture cards such as kings, queens and jacks equal zero.
If the cards in you hand add up to a double digit figure for example 8+8=16, you count the second digit as your point value, and that would be 6. If the dealer has a closer value to 9 than your 6, then he wins the baccarat hand.
Winning on the player and banker bet pays 2 to 1, while winning on the tie pays 9 to 1. Of course if you place a bet on the progressive, then you win a whole lot more than just these odds.
The visuals on Progressive Baccarat are great in the downloaded version. The game can also be played for free as well as an instant version of the game where no download is required. The software platform for this game of progressive baccarat is provided by Playtech and they have outdone themselves in providing a virtual casino offering that makes the entertainment experience of playing this game even more pleasurable.
Country & Language Preferences
Help us help you find casinos that speak your language and accept players from your country.
Choose your Country
We will only display casinos accepting players from your country.
What Languages do you speak?
This will help us show you casinos with the best Website / Support / Live chat language options for you.
Add another language