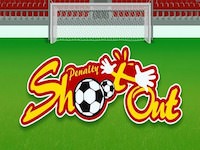 Penalty Shootout Casino Game
Penalty Shootout is a Other game offered by Playtech games provider.
Penalty Shoot Out is a basic game when the player choose an angle in which to kick a ball at a waiting goalkeeper, with the harder the angle chosen having the biggest pay out. It's based around the most thrilling part of soccer and, although being predominantly luck based, it can be entertaining too.
When the game begins, you first have to choose your stake, with amounts ranging from $0.10 to $100. The higher amount you choose, the more you stand to win.
You then select from one of five angles in which to kick the ball at the goalkeeper. The harder the angle, the more money is available. If you kick it directly in front of the goalkeeper, the odds are x5, meaning whatever you bet is doubled by five ($100 stake equals a $500 prize). You can also aim for the high corners on both left and right of the goalkeeper - scoring these goals has a return of x12. Finally, you can kick low to the left or right of the goalkeeper, earning you x3 your initial stake.
When you have selected your stake and the angle you wish to kick, you press play and watch the shot. Simply, if the keeper saves the shot you lose and win nothing. However, if you score the goal you win the amount your angle of choice was worth. You can also keep a track of what types of angle the goalkeeper has saved during your game with a handy list of previous shots down the right hand side.
I thoroughly enjoyed this game, as it has a lot of user participation for a luck game, and there is some strategy involved. Even if you select the easiest shots you're not guaranteed to win, but trying to comprehend the goalkeepers weaknesses using the previous shot record is good fun.
The graphics are good and the game noises minimal and apposite. A return of $1200 for the most difficult shots is well worth it and the game itself is enjoyable.
Country & Language Preferences
Help us help you find casinos that speak your language and accept players from your country.
Choose your Country
We will only display casinos accepting players from your country.
What Languages do you speak?
This will help us show you casinos with the best Website / Support / Live chat language options for you.
Add another language