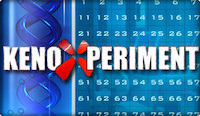 Keno Xperiment Casino Game
Keno Xperiment is a Other game offered by Playtech games provider.
The Keno Xperiment is an extended version of the well known and popular Keno lottery game. The player can select up to ten numbers which are then entered into up to five rounds and money is won depending on the amount of numbers of the player that match those the lottery selects. It is an interesting twist on a standard lottery game.
First, you are requested to select your stake. Amounts to select range from $0.25 to $5. When done, you then select your numbers. You can select between two and 10 numbers, numbered from one to 80. You can also ask the computer to select your numbers, by choosing the amount of numbers you want in play (between two and 10) and clicking Random Pick.
You can then choose the amount of rounds you want to play - one or five. You can also select if you wish to use the same numbers for each round. What you stand to win depending on the amount of numbers you choose and that are then selected by the lottery is displayed in the corner - usually you will need to get at least three numbers correct. The amount you win depends on your stake and how many numbers you chose, up to $10,000.
The game begins as soon as you select the amount of rounds. If you choose to select five rounds, the computer will continue automatically until all rounds are done. You can monitor your progress through the status bars on the right. When the one round or five rounds are up, you can see how you fared and, hopefully, how much you won.
The numbers, as selected, will appear in front of you on the play board. The lottery chooses up to 20 numbers, some of which will hopefully match yours. If you get a match, that number turns orange.
After awhile, I found this game a little tedious and difficult to work out. The highest win, $10,000, is relatively low compared to some luck games that are available and the game isn't engaging enough to warrant such a - relatively - low possible return.
The interface itself is pleasant enough and the game sounds relevant and sophisticated. Needing to score at least three hits (when you match numbers to the lottery) is quite frustrating, especially when this minimum has such a low (up to $10). All in all, theres better games out there.
Country & Language Preferences
Help us help you find casinos that speak your language and accept players from your country.
Choose your Country
We will only display casinos accepting players from your country.
What Languages do you speak?
This will help us show you casinos with the best Website / Support / Live chat language options for you.
Add another language