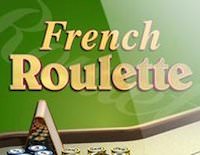 French Roulette Casino Game
French Roulette is a Roulette game offered by Playtech games provider.
French Roulette is one of the most interesting casino games you can play, and a big reason for that is the participation of PlayTech, one of the most well-known and well-respected designers of online casino gaming software in the industry. What PlayTech brings to the table is a combination of imaginative animation and dynamic graphics that will maximize your casino experience and navigate around a roulette world that is very life-like.
I guess it's fair to say that you'll pick up some French too, because of the special betting options you can employ.
You're probably aware that there are two different versions of the game of roulette. In the American version, the roulette wheel has both the zero (0) and double zero (00). In the European game, there is only the single zero. It obviously follows that in the European game, the chances of an even or odd number coming up on the wheel, which consists of 37 possibilities, is greater. French roulette bears a very strong resemblance to the European version.
There are terms you want to be aware of that are indigenous to French roulette. For instance, "Pair" is an even bet, while "Impair" is a bet on an odd number; "Manque" designates the "low" numbers from 1-18, while "Passe" means the group of high numbers (from 19 to 36).
In your chip tray you are provided with denominations of .01, .10, $1, $5, $10, $25, and $100, and to place a bet it's literally as simple as clicking on a chip and pointing to a specific place on the layout to get those bets onto the table, and if you want to get more of a certain denomination into the game, just click on it multiple times.
French Roulette from PlayTech lets you have alternate views of the roulette wheel as it is spinning. If you look at it from the long view, you may not see it as well as you would like to. But PlayTech gets you an inset on the top of the screen so that you have a close-up view of where that virtual ball is going.
There are certain wagering opportunities that are available in French roulette that you may not be familiar with. Here are a few of them:
- **Voisins de Zero** - This betting option puts a wager on the zero (0), and also applies to nine numbers to the left of zero and seven numbers to the right of it (as they appear on the roulette wheel). Payouts may differ, depending on which number the wheel brings up.
- **Orphans** - When you use this particular option, you will place a bet on the numbers 1, 6, 9, 14, 17, 20, 31 and 34. When numbers are next to each other on the rectangular layout, they share a split bet.
- **Neighbours** - bets apply to a number as represented on the table, plus the two numbers both to the left and right of that table on the roulette wheel. This wager will pay off at 35-1 odds.
You also need to know about the "Le Partage" rule, where if the wheel comes up zero, you are going to lose only 50percent of any even money (outside) bet you've got down. Even money bets, of course, are those where you are betting on 18 numbers at once, where it be Red/Black (Rouge/Noir), Even/Odd (Pair/Impair), or Low/High (Manque/Passe).
French Roulette is great because it brings a certain international feel to the game, and PlayTech's design gives it the continental touch!
Country & Language Preferences
Help us help you find casinos that speak your language and accept players from your country.
Choose your Country
We will only display casinos accepting players from your country.
What Languages do you speak?
This will help us show you casinos with the best Website / Support / Live chat language options for you.
Add another language