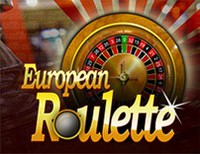 European Roulette Casino Game
Software:

Realtime Gaming

Game Technology:

Flash

Popularity:

1.0 Very low

Configurable Win Lines:

No

Progressive:

No

Gamble Feature:

No
European Roulette is a Roulette game offered by Realtime Gaming games provider.
This game also has a progressive feature, which allows you to participate in big jackpots with many players from around the world contributing to it.
RTG is a leading online casino software provider that features a European Roulette game that has great sounds and graphics and fast game play. When you play European Roulette you have many gaming options and you can also control the sounds of the game. Many of the best online casinos carry this RTG casino roulette game.
This RTG casino roulette game has a fantastic interface with a very clear and concise animated roulette wheel and you have the ability to see the European Roulette game in fill screen mode as well as a reduced sized screen. When you play European Roulette there are quite a few special wagers that you are allowed to make.
There are 2 main versions of the game of roulette, which are American Roulette and European Roulette. The only difference between these 2 versions of the popular game of roulette is that in the European Roulette version has one zero (0) on the wheel and with the American Roulette version there is a zero (0) as well as a double zero (00). Because you play European Roulette with only a single zero it means that there is a better percentage that the ball will come to a stop on a number that is red or black. In any type of roulette wheel there are 36 numbers, which 18 numbers are red and 18 numbers are black.
When you play European Roulette the aim of the game is pretty simple, as you want to pick the number on the game layout that will hit after the wheel stops spinning. You can bet on single numbers as well as other specialty bets on the outside of the numbers layout. The numbers bets are referred to as inside bets and the bets on the outside of the numbers are referred to as outside bets. The outside bets that you can bet when you play European Roulette are odd or even, red or black, 1-18 and 19-36, first 12, second 12, or third 12. To learn more about roulette bets, visit our [u=/roulette-strategies/]roulette strategy section.
Here are the bets and the payouts when you play European Roulette:
\- A bet on one number pays out 35-1.
\- A bet on 2 numbers pays out 17-1.
\- A bet on 3 numbers pays out 11-1.
\- A bet on 4 numbers pays out 8-1.
\- A bet on 6 numbers pays out 5-1.
\- An outside dozen or column bet pays out 2-1.
\- The outside even money bets of red or black, odd or even, or low (1-18) or high (19-36) pays out 1-1.
In this online roulette game you will have various chip denominations right in front of you in the chip tray. If you want to make a bet in European Roulette you simply click on the chop denomination and click on it and then click on the number that you want to wager on whether it is just betting one number, a combination of numbers, or the outside bets. If you want to make more than one denomination bet all you have to do is click on the chip denominations as many times as you want.
Roulette is one of the most entertaining casino games to play and RTG online casinos have a great version of European Roulette.
Country & Language Preferences
Help us help you find casinos that speak your language and accept players from your country.
Choose your Country
We will only display casinos accepting players from your country.
What Languages do you speak?
This will help us show you casinos with the best Website / Support / Live chat language options for you.
Add another language