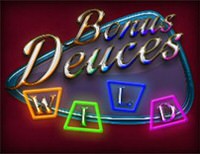 Bonus Deuces Wild Casino Game
Software:

Realtime Gaming

Game Technology:

Flash

Popularity:

1.0 Very low

Configurable Win Lines:

No

Progressive:

No

Gamble Feature:

No
Bonus Deuces Wild is a Video Poker game offered by Realtime Gaming games provider.
This game also has a progressive feature, which allows you to participate in big jackpots with many players from around the world contributing to it.
Bonus Deuces is a Real Time Gaming casino video poker game that is exciting to play and has great graphics and sounds. In the game the deuces are wild and there is a bonus that is in play, which is the payout of 5 of a kind combinations, which can give you a great payout. The winning combinations in the game are 3 of a Kind, Straight, Flush, Full House, 4 of a Kind, Straight Flush, 5 6s, 5 Kings, 5 3s, 4s, or 5s, 5 Aces, Wild Royal Flush, 4 Deuces, 4 Deuces with an Ace, and a Natural Royal Flush. The highest payout you can get in Bonus Deuces and Wild is 4,000 coins making the maximum bet.
There is a typical 52-card deck used in Bonus Deuces Wild and you will be dealt 5 cards all face up. You will make a decision on which cards to hold or discard and then are dealt more cards and you will use the final 5 cards to get the best poker hand possible. The highest combination will be paid out to you after the end of each hand. You have the chance to bet 1 to 5 coins with the betting denominations of 5 cents, 25 cents, 50 cents, $1, and $5.
In the Bonus Deuces Wild rules the hands are based on the pay table in the game. After each hand the 52-card deck is re-shuffled. In the game if you get a terrible starting hand you do have the choice to take 5 new cards. Deuces can be substituted for any card in order to complete the highest winning hand.
You can make a wager in the game if you click on the chips on the screen and then you have to choose how many coins you want to bet (1 through 5). Every time you bet more coins the more you can win if you have a winning combination. In the Bet One option it will bet 1 coin every time it is clicked up to 5 times, which is the max bet. The Bet Max option means it will bet coins for every hand you are dealt. In the Draw Deal is clicked it will deal the cards to you after you make a wager or after you decide to keep the cards you want in your initial deal. In the Hold option you will click on the cards in your hand that you want to keep. The Cash Out option will end your session and you can cash out the credits that you have.
The card ranks in Bonus Deuces Wild are the typical hand rankings of video poker so from highest to lowest the rankings are Ace, King, Queen, Jack, 10, 9, 8, 7, 6, 5, 4, 3,and 2. There is not a suit that is ranked higher than the other and in the Double or Nothing Bonus Round the wild 2s are the highest ranked cards. You can play with more than one deck, as you can play with 3 hands, 10 hands, 52 hands, and even 100 hands. The more hands you play the more of a chance you have to win.
Double or Nothing Bonus Round - In the Double or Nothing bonus round, when you're playing with 1 deck, you have the chance to double your win in another screen. There will be 4 cards dealt face down and you simply have to pick the hard that is higher than the dealers card. You can keep playing in this bonus round if you keep beating the card of the dealer.
Country & Language Preferences
Help us help you find casinos that speak your language and accept players from your country.
Choose your Country
We will only display casinos accepting players from your country.
What Languages do you speak?
This will help us show you casinos with the best Website / Support / Live chat language options for you.
Add another language