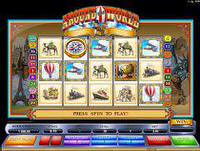 Around the World Casino Game
Software:

Microgaming

Slot Type:

Classic slots

Slot Paylines:

20

Slot Reels:

5

Minimum Coins per Line:

1.00

Maximum Coins per Line:

10.00

Minimum Coins Size:

$0.01

Maximum Coins Size:

$1.00
Around the World is a Slots game offered by Microgaming games provider. This game has 5 reels 20 paylines. The minimum coins bet per line is 1.00 the minimum bet value is $$0.01 while the maximum coins bet per line is 10.00 where the maximum bet value is $$1.00 per bet.
This game has a bonus feature game, which can be reached at certain levels. Bonuses can make a game exciting therefore it's a positive feature. This game is a multiplayer game (sometimes called a community slot) is a game that is played by multiple people at the same time. The game also has an auto play feature, where you can make the game spin automatically for a set amounts of spins. For example you can set it to spin ten times and it will do so automatically.
Look out for the scatter symbol on this game. Scatters on video slots are often animated and will come to life when they land on the reels. Usually, a certain number of scatter symbols must appear on a single spin to unlock a special feature allowing you win more money. This game offers a wild symbol which has the power to substitute any symbol on the reel that it appears in to create a payline. This is a powerful feature that many game machines offer.
Around The World is another take on the classic "higher or lower" game, where the player is given a starting number and is then required to guess whether the next selected number is higher or lower than the original.
The format used by Around The World is like similar to a roulette wheel, with small sections given a numeric value between one and 49. The player then spins the wheel to get the starting number and each subsequent number. You can get one choice of higher or lower incorrect in each sequence before the four cash out points; make another mistake and you lose your stake. It also features three so-called special events which the wheel can land on.
The first of these is "Remove Strike", named on the wheel as RS. If you land on this when you spin the wheel, any mistakes you have made so far in that chain of spins is erased. The second is "Advance One Step" (AS), which automatically moves you one step further up the chain - and thus closer to the nearest cash out point - without having to correctly guess a number. The final special event is "Advance One Level" (AL) which moves you up to the next sequence of cash out, hopefully meaning more money. To begin playing, first place a bet - anything from $0.10 to $100. Then press "start" to be given your first number, and then you try and predict whether the next number will be higher or lower. Simply choose which option and click on the button, the wheel will spin again and the game continues until you are incorrect twice in one sequence or win the jackpot. As each new sequence starts, your previous "strike" (mistake) is erased. To reach each cash out stage, you must make six guesses, five of which must be correct. The first cash out stage is worth 2.5 times your bet - so if you bet $100, you win $250. You can then continue playing or leave the game with your winnings in tact. The second is x3 your stake, the third stage is x3.5 and the final stage is x4, which on the example $100 bet is $450. This is the highest possible win.
This game is a nice difference to the standard "higher or lower" fare. However, it's a lot of work for a maximum win of $450. Each spin of the wheel takes around 10 seconds, and considering you'll need to do this a total of 24 times to win $450 (and then only if you stake $100), this is certainly more time intensive than a lot of games for not a huge reward. That said, the game is enjoyable - the interface is easy to use, well designed and the game progresses nicely. The decision to have one mistake allowed per sequence of six is a nice surprise and unusual in itself, but this nevertheless does mean you are going to need to be correct 20 times out of 24 spins. If the payout were higher, however, this would be one of my favorites due to how pleasant it is to play and how neatly designed it is. A real must if you just want to play casino games for the fun of it.
Country & Language Preferences
Help us help you find casinos that speak your language and accept players from your country.
Choose your Country
We will only display casinos accepting players from your country.
What Languages do you speak?
This will help us show you casinos with the best Website / Support / Live chat language options for you.
Add another language