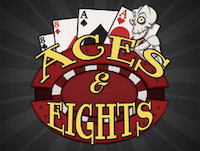 Software:

Realtime Gaming
Aces and 8s is a Video Poker game offered by Realtime Gaming games provider.
Aces and 8s is a great Real Time Gaming casino video poker game that has a real feel of poker with a few slight variations. The sounds and graphics are nice and the room is a little smoky, which gives you the feel of a real poker room. The payout structure of Aces and 8s is what makes it different than other types of video poker games. There are 2 hands in the game Aces and 8s that will pay out more than in other games. The hands in the game that players can win and listed in order are a Royal Flush, 4 Aces, 4 8s, Straight Flush, 4 7s, 4 of a Kind, Full House, Flush, Straight, 3 of a Kind, 2 Pair, as well as Jacks or Better. In typical video poker games you usually do not win with a 2 Pair or Jacks or Better, which makes Aces and 8s a different kind of video poker game.
When you play Aces and 8s you have to first make a bet and the betting denominations in the game are 5 cents, 25 cents, 50 cents, $1, and $5. There are other betting denominations if you play multiple hands in the game with 1 credit, which are 1 cent, 5 cents, 25 cents, 50 cents, and $1. The minimum bet in Aces and 8s is one credit and the maximum is 5 credits. The max payout in the game is 4,000 coins, but you should know that to get the max payout you will have to get a Royal Flush and bet the maximum amount of coins (5).
When you have chosen how much you want to play with you will come to the Aces and 8s game screen. Then you will click on the credit amount you want to play for each hand. You can change the amount of credits you can play before you can play each hand. When you are dealt your cards you have to then make a choice on what cards to keep and what cards to discard in order to make the best poker hand possible. In a typical poker game you may want to keep 2 Kings in your hand rather than 2 8s, but remember that in Aces and 8s 4 8s is a hand that is worth more than 4 Kings.
When you win a hand playing Aces and 8s you have the opportunity to double the amount you win. The screen will prompt you if you want to go to the unique Double or Nothing Bonus Round. You do not have to take this option, but if you do you will have to choose 1 of the 4 cards, which are faced down, and if it is higher than the dealers card you will win. You can keep doing this to double what you have won as long as you keep picking the card that beats the dealers card.
Besides just playing 1 handed Aces and 8s video poker you have the chance to play the game with 3 hands, 10 hands, and 52 hands. The more hands you play the more confusing it can be but all of the information on winning hands is located on the left side of the screen. If you decide to play Aces and 8s in multiple hands you will not have the opportunity to play the Double or Nothing Bonus Round.
Aces and 8s video poker is not that different from other video poker games with the exceptions of the winning hands. The game is fun to play and pretty easy to play and the payouts can be pretty big if you hit on some winning combinations.
Country & Language Preferences
Help us help you find casinos that speak your language and accept players from your country.
Choose your Country
We will only display casinos accepting players from your country.
What Languages do you speak?
This will help us show you casinos with the best Website / Support / Live chat language options for you.
Add another language